When you are in Spain, it is a great opportunity to book training sessions with a padel coach to improve your game. Orange Padel offers group training where you train with others.
Book a training session with one of our coaches. Private training is booked via MATCHi (app or web: Book.orangepadel.com) – and can be booked for 1 to 4 participants.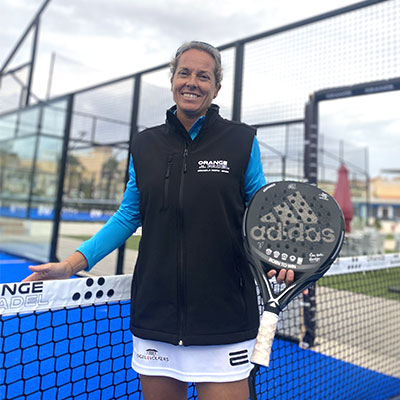 Eva is our Spanish star from Mallorca who has been a padel coach since 2001. She is very passionate about coaching and will give a lot of energy and tips.
Eva's life has always revolved around sports. She spent her childhood growing up among soccer balls, running shoes, basketball gear, and no doubt, tennis rackets and tennis balls.
Today, she makes her living as a tennis and padel coach. She loves organizing One-Day Tournaments which is an amazing way of discovering talents, meeting new people, strengthening relationships, playing, having fun, and learning from each other.
For info or book lesson send a WhatsApp to +34 649632950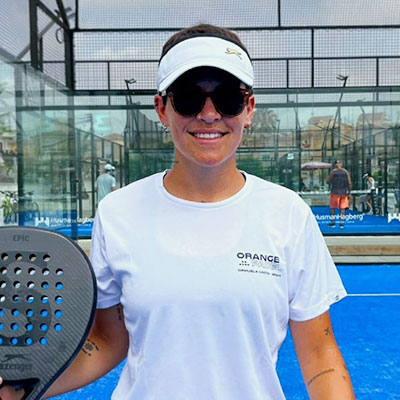 We are happy to announce that top player Maria Picio from Argentina is joining our team as a coach.
Maria is ranked as a player in the top 10 in Sweden, and has many years experience in coaching players of all different levels in Spain, Argentina, England and Sweden.
Maria speaks both Spanish and English.
For info or book lesson send a WhatsApp to +34 687 86 52 74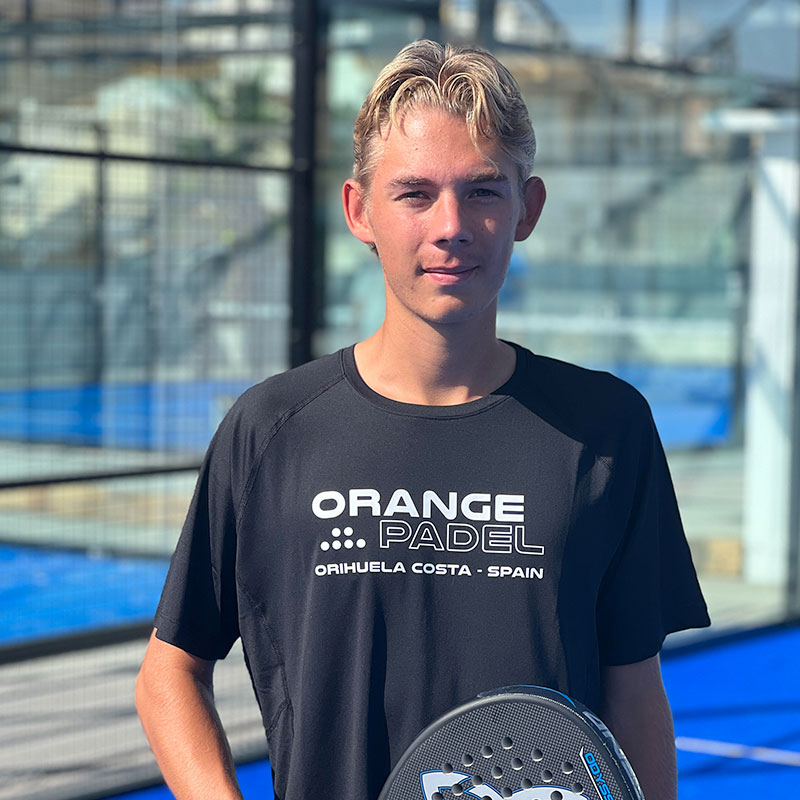 Max has been a coach for 3 years and has done several training courses with Dani Dios. He will find the small things that you need to change to improve your game. As a person Max is very patient and calm, he train both kids and adults.
He speaks Swedish and English fluently and understands Spanish.
Max charge 40€ per hour and you can be 1-4 persons.
For questions or to book a lesson with Max send him a WhatsApp on +46 706799292 or book online: Training.orangepadel.com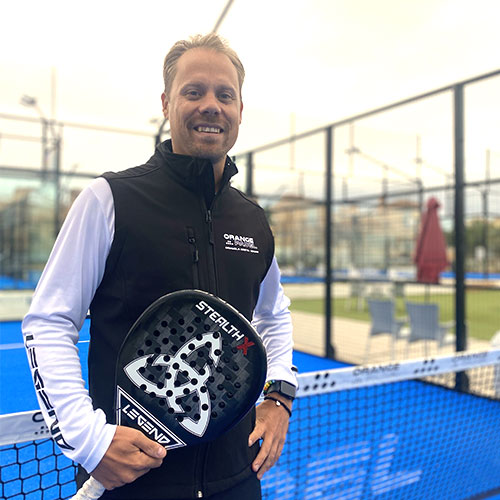 Pär was one of the first who brought and introduced padel in Sweden and who saw the potential of the sport before many others in Scandinavia.
Pär has been top ranked as a player in Sweden and has many years of experience as a padel trainer.
As a trainer Pär has the knowledge and experience to coach and challenge you to reach your next level, regardless of whether you are a beginner or a competitive player at a higher level.
Pär charge 50€ per hour and you can be 1-4 persons.
To book a lesson, please contact Pär via Whats app: +46 705099000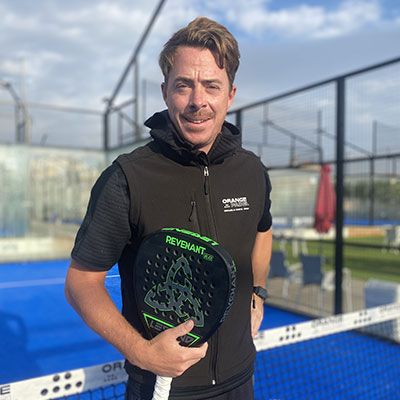 This is André Schlyter one of the owners at Orange Padel and also one of the coaches.
André has been coaching for 20 years, first 15 years as a tennis coach then 5 years padel coaching where he's currently the coach of Anna Åkerberg (ranked nr 1 in Sweden)
Develop, sweat and have fun on court is Andrés key words as a coach and loves to see progress on all his pupils no matter what their level is.
As a player André has been top 10 in Sweden, he has won bronze in Swedens Seniors nationalteam in the World championship and the European championship.
André speaks Swedish and English fluently.
He charge 60€ per hour and you can be 1-4 persons.
If you have any questions or want to book a lesson send him a WhatsApp message. +46 706456562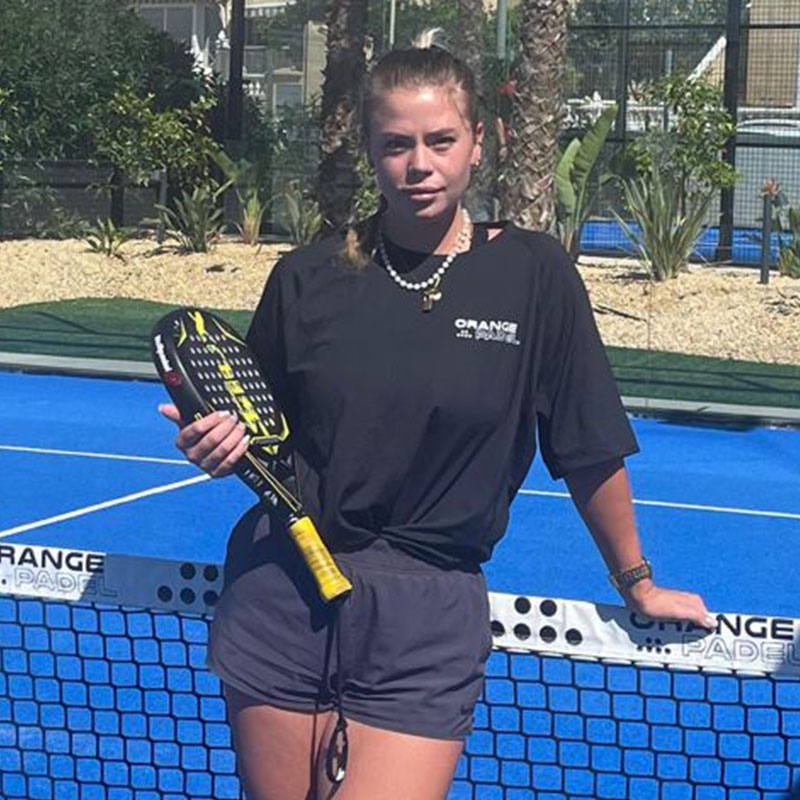 My name is Julia Saving, and I am 24 years old. I have been practicing padel and tennis my whole life and I went to college for four years in America to pursue my tennis career. I have a lot of working experience on the tennis and padel court, both in Sweden, Spain, and America. I love working with people and children both on and off the court. I am a certified tennis/padel coach since 2016 and I also have a lot of knowledge of working with weight training, conditioning, stretching, and specified tennis/padel-related exercises.
To book a lesson with go to: Training.orangepadel.com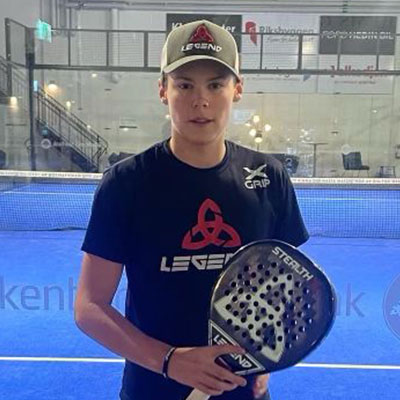 Adam is 17 years old and attends the Padel Academy in Båstad. Adam has been a coach in the area before when he himself lived here. Now during the summer, Adam will be at Orange Padel and hold training sessions for children and young people but also for older people if there is interest. Go on and book. Vamos!!!
To book a lesson with Adam during the summer go to: Training.orangepadel.com